My friend, Mary Ellen, has written several children's books. One of them is called The Christmas Birdie.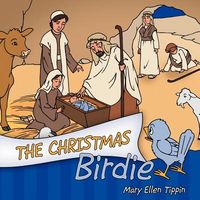 Last year, she got the idea about putting it into a musical. She enlisted the help of many friends - Dunri, who runs
Angel Feet Dance studio,
Marilyn
, who is a composer and is a tremendous musician!!
Caryn and I to do props,
Diane and several others to do costuming.
Hearts 4 Him
and several other musicians.
Dr. Michael Donnelly, an associate professor of English at K-State to do the narration.
We all put lots of effort into it and it turned out wonderfully, I think!
Caryn decided to paint a little lost sheep - all alone. (yet not, because the Shepherd has His eye on him) It was not part of the Christmas Birdie story. Just a part of a story we talked about as we painted.
The story is about a little bird named Flit who gets knocked out of the sky by a stone from a sling shot and is left behind when his family migrates south. But what starts out as a disaster turns into Flit witnessing the birth of the most important person who has ever lived! The night God came to earth!
You can order this book on-line or in some Christian bookstores and read it year after year!
"Leaves" for the spring trees.
This is a nest that my grand daughters and I worked on. We began with cattle fencing that Al and I bent into a circle shape. Then we wove branches and twigs back and forth all over the frame. I loved the final nest!
Our family arrived for the play early.
I could only watch the play from back stage since Caryn and I were some of the prop people who moved the props between scenes.
Mama Birdie with Flitty, Twitty, and Itty Bitty.
Angel chorus appearing to the shepherds.
Here are Mary and Joseph - I borrowed this picture. Aren't they cute?
I am so proud of Mary Ellen and give God the thanks for the talent He has given her!